We want you to find the ideal gift for the children on your shopping list!
Search for products in the usual way - by age, gender or category - but Jollys also enables you to search by more specific terms too, so you get a little extra help and direction in finding the right gift.
Search by Personality - every product Jollys stocks has been especially matched to different personality traits. Think about the personality of the child you are buying for and this will help you narrow down your search
Search by Theme - most children have favourites and most change as they grow and discover new fads! Do you know a child who adores Dinosaurs, or a little girl who loves everything Unicorn-related? Search for products by theme from Space to Nature, Fairies to Monsters....we have a list of many top themes that children love so that you can match a gift with the child you have in mind
Search by Learning Value - at Jollys we know that any kind of play item, toy or activity has the opportunity to develop skills of many kinds for children. With this search option you can find a gift which helps to encourage and develop a specific skill which you know a child could do with practising or can't get enough of!
We hope that our Gift Finder makes shopping for the children in your life easier!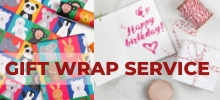 We can wrap your gift and write a card on your behalf, then send direct to the gift recipient if you need us to.
Select your gift wrap choice on the product page just before you put your item into the basket. We charge £3 which includes gift wrapping tied with a raffia ribbon bow and a really lovely greetings card. Let us know at the checkout what you'd like us to write in the card. We'll put it all together for you with great care.